About Us
With strong planning, deep market analysis and customer oriented approaches, we, Maanvi Kitchen Appliances, have started our business. We work to develop, source and supply the most reliable Commercial Kitchen Equipment and Hotel Equipment. We are a prestigious company, known for our outstanding work as a manufacturer and trader of Table Top Bain Marie, Cocktail Station, Flat Type Induction, Conveyor Toaster, Gravy Machine, SS Pot Wash Sink, Storage Bin, etc.
We began our operations after gathering rich knowledge about industry-set quality norms and customers. The knowledge gives us many benefits and helps us in bringing forth such products that immediately get sold out and bring heavy orders from the market. At our premises, we ensure that high grade materials are used for production so that built equipment lasts for a longer period of time. Each of our pieces is supplied in the market when our quality controllers get confident about their proper functionality, durability and accurate construction.
Industries We Cater To
We are committed to customers by giving them value for money experience. We develop such kitchen equipment that find their use in the below mentioned industries:
Banquets
Restaurants
Sweets Shops
Food Courts
Lounge & Cafe
Hotels & Resorts
Hospital Kitchens
Food Catering Companies
Take-away Joints
Institutional & Industrial Cafeteria
Our Mission
We work with optimism and sincerity with the mission to deliver a world-class experience to our customers by meeting their requirements and expectations.
Our Vision
Our vision is to establish ourselves as the most trusted brand of commercial kitchen equipment market by using innovation in products & processes and delivering convenience to all the consumers and stakeholders in the market.
Standard Certifications
It is because of our quality commitments and excellence, we have received ISO 9001:2015 certification, which is still a dream for many companies of the domain. From our premises, all the products including Conveyor Toaster, Gravy Machine, Table Top Bain Marie, Cocktail Station, SS Pot Wash Sink, Storage Bin, etc. are dispatched to customers after quality assurance.
Our Services
In order to establish ourselves as a reliable partner for customers, we render several services. We help customers in having as well as maintaining well-set kitchens at commercial set up.
We understand how important it is to have the right knowledge, planning and layout designing of commercial kitchens. Hence, we have appointed experienced designers, who work on creating layouts for projects in order to ensure practical implementation and right use of space.
We also provide Kitchen Repair Services and AMC For All Types of Commercial Kitchen Equipment at the best rates.
Our Clients
In a couple of our presence in the market, we have made a huge clientele. Our customers are fully satisfied with our product value offer and we strive on building stronger relationships with them. We offer outstanding quality products and dedicated services to ensure that our clients place repeated orders to use.
Following are the names of renowned customers to whom we have served:
Go 69 Pizza - The Pizza Cafe
Snacking
Next Door Kitchens
Vedic Resorts & Hotels Pvt. Ltd.
New Bidyut Bakery
Kushal Palli Resorts unit of PearlTree Hotels

Econest Hotel
Chennai Xpress
Domingo's Pizza
Raj Bhavan
The Burning Coal - Cafe
Cloud Social Rooftop Lounge
Our Sister Concern
Our company is associated with Brite Kitchen Equipments as a sister concern partner. The linked company has IAF membership, HRAEI association, ISO 9001:2015 certification and MSME certification. Like us, our sister concern company caters to the requirements of hi-end brands such as NIPS Hotel Management, B.M.Birla Heart Research Center, The Amaya Resort, Haldirams, The Bengal Rowing Club, UEM, etc.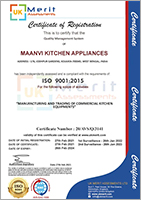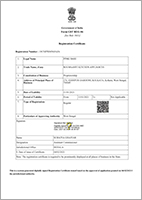 Read More